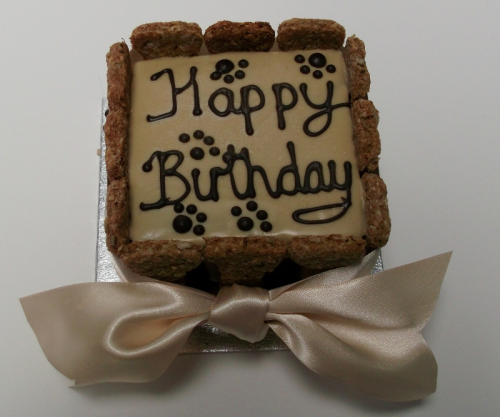 Birthday Cake
Yes - a whole sugar free birthday cake for your canine companion. Choose from chocolate cake or carrot cake, topped with sugar free dog safe 'icing' and surrounded by 12 Cheesy Grin biscuits (for your doggy guests), this cake is individually decorated with your pets name. Ideal for a pet party! Contains gluten free flour, eggs, carob powder and sunflower oil. Sizes are approx
Small (4.5"x 4.5") - £11.50
Large (6.5" x 6.5") - 16.50
Please note that being individually made, we require a minimum 7 days notice to order. When ordering, please let us know the recipients name and the date it is required for so the cake will get to you as fresh as possible. They will have a 5 day use by date but can be frozen.
If you require gluten free please state when ordering and we can replace the cheesy grins with a gluten free biscuit instead.
The image shows a typical cake - pattern and colour of decorative ribbon may vary.
We may be able to vary the wording on the cake ("Happy Gotcha Day" for instance) depending on the length of words. Please email to check.
Typical Analysis: Protein 7.2%, Oils 11.4%, Fibre 6%, Ash 2.7%
Due to cost, we cannot "split delivery" or deliver two cakes on different days. Should different delivery dates be needed then customers should make a separate order.